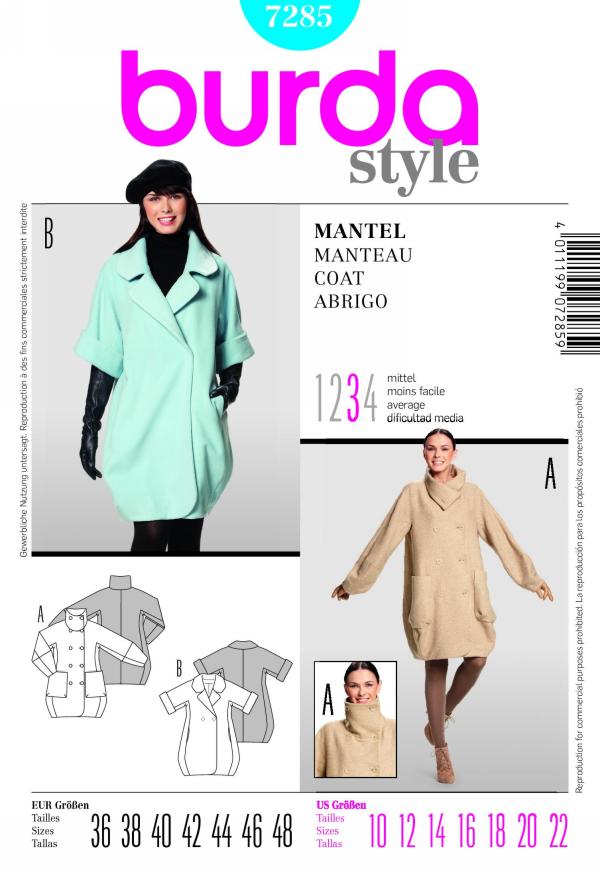 I started sewing 2 years ago and I decided that my first clothe would be a coat. I really liked the outfit of the pattern and it was very different from those you can buy, so that is why I thought I had to make it. Moreover I found a great  blue wool fabric in the same store. Concerning the lining, I had a hard time finding the same blue color. Because I didn't know anything about sewing, it took me a long time to make this coat but because of the fabric price, I had to sew it anyway. Burda coat 7285,  model A, is a bulky coat with a stand-up collar and double-breasted. I sewed size 38 but it was to big for me and as I didn't have my mannequin yet, when I realized my mistake it was too late !
Coat pieces :
Front x2 – Back x2 – Side 2x – Front facing 2x -Back facing 1x – Front hem facing 2x -Back hem facing 2x – Front sleeve piece 2x – Back sleeve piece 2x – Lower sleeve 2x – Sleeve facing 2x – Collar 2x – Pocket 2x
Lining pieces :
Front x2 – Back x2 – Side 2x – Lower sleeve 2x – Sleeve facing 2x – Collar 2x  – Pocket 2x
Execution
Fabric: Wool and polyester
Pattern: Burda 7285
Level of difficulty : Average (it took me so much time !!!)
What I liked : Detailed instructions with schemes. I would not say I have understood everything but enough to make this coat  🙂
What I didn't like : Making the buttonhole in the collar, the bottom part of the coat which does not look like the photo and the sizing.
In a word
I have liking for this coat because it was my first attempt at sewing. It is not perfect, but I am quite convinced of the result even if I think that this kind of coat doesn't  really suit me.