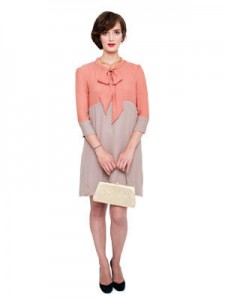 I immediately fell in love with this little Hazel dress from Victory Patterns, especially because of the vintage look in addition to still be sober. Well the problem is, I met her during Fall while it is more a spring/summer dress. Still I felt  like I needed a winter dress and decided to choose this model anyway. I finally found the appropriate fabric for both winter season and the Hazel dress, at least, that is what I thought. I choose a deep blue woolen fabric for the top and a lighter and shinny for the bottom part. At first sight I did not think I would need to line the top of the dress but I immediatly changed my mind at the first fitting! The wool remains wool and  is itchy.  Concerning the pattern, it was my first try with Victory and it was not too bad actually : I understood almost all the explanations even if it was in english and the sketches were clear too. The sizing was alright to me, I was a little scared about the arms thickness but it looks like I have no muscle because it suited me! At the begining I was also disturbed with the included seam allowance, I usually have to add it after.
Execution
Fabric :Light woolen fabric and polyester (linnig)
Pattern: Hazel dress form Victory Patterns
Level of difficulty : Beginner
What I liked : Clear explanations, the PDF pattern price , the bow.
What I didn't like : The rear part of the neck which tends to yawn, the neck facing placement.
In a word
Although I consider my version of this Hazel Victory dress for winter is a success, I think that the  "lack of fit" of the pattern is not particulary suited to fabrics I chose because it tends to "bag". If I do a summer version of tis dress, I would take soft fabrics like crepe, silk or chiffon , as it was indicated in fact  😐 …