I have had eye on this little top from Dressing Chic for a long time and I have finally took the plunge … Better late than never! I bought the book just for this top and I'm not disappointed! I had watched the various achievements and I chose not to sew the bow so I can wear it or not, my fabrics  is "original enough." I took advantage of the few rays of sunshine this weekend to take some pictures. Speaking of photo I tried to improve myself following the discovery of Annie Cotton's blog  which is  simply marvelous. This post is also a kind of dedication because besides his talent for sewing, the design is stunning and the pictures really highlight her creations. Hum let's go back to this top with removable bow from Dressing Chic!
Execution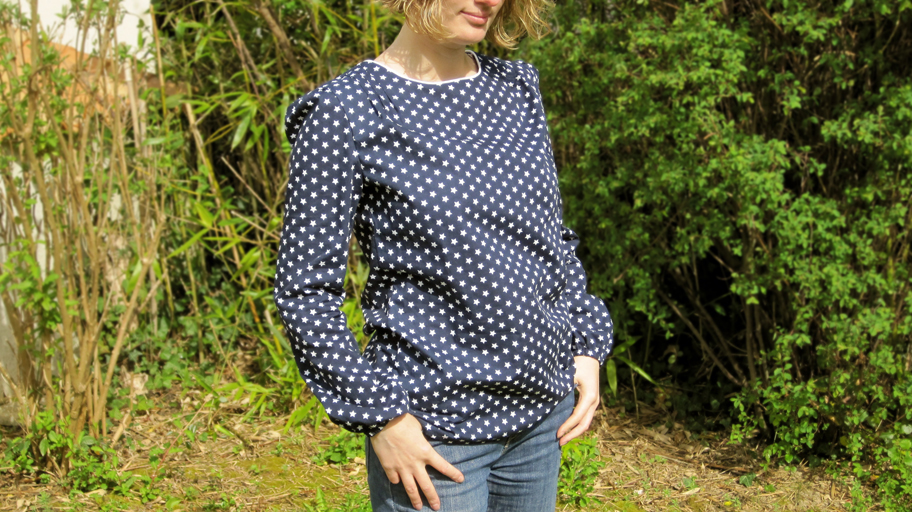 Instructions easy to follow
So this is my first project with the book Dressing Chic. I found that the explanations were concise but if you are a novice, the step of threading elastic sleeves is a bit evaded. Fortunately , you can find how to do this super easy here on the Coupe Couture website.
I didn't changed anything except that I added the piping on the neck ( with more or less success … ) . I also chose not to make the bow thing too definitive : I can add it with a safety pin whenever I want . For the node I took the rectangle shown in the model and I folded in half lengthwise and then closed instead of hemming . So he is a bit thinner than the original model.
Let's talk about the " I love wasting time for nothing" section  I add with the " rat tail cord " that allows you to attach the button in the back. I knew it would be painful, I had already done it while sewing  my kimono dress. In the same section , the scope of covered button is also nice. I sometimes really wonder how I can loose so much time for such insignificant details…
Cost
For this top with removable bow, I used mainly blue cotton from Tissus.net at 7.45 € per meter. In addition to the piping in white cotton that costs a pittance, the price of white cotton from Toto does not swell the note,neither the elastic cuffs. In short I think that the top costs, raw material, around ten euros.
Comfort
Besides being made with cotton, this lovely model is quite comfortable. By cons the back is a little "just" for the amplitude of certain movements but it's ok for everyday life.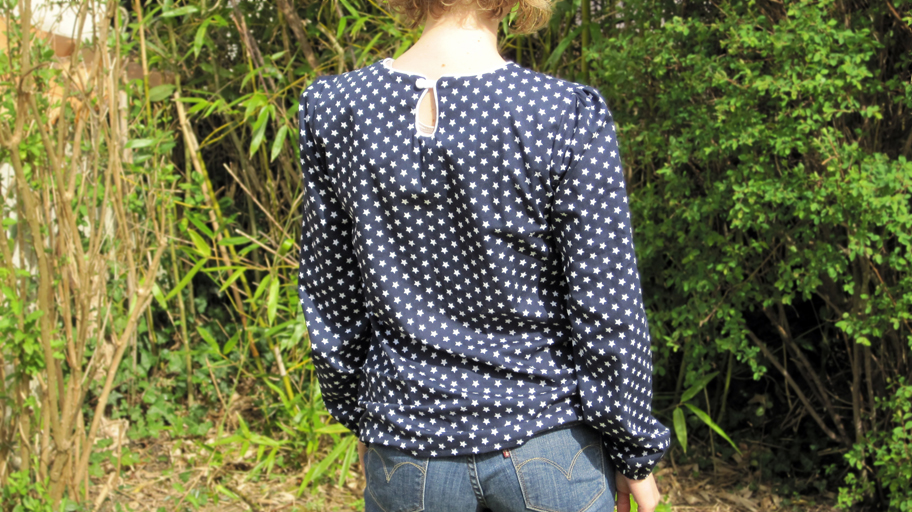 Looks like the photo on the pattern envelope
Honestly, this little top with bow from Dressing Chic's book keeps its promises. I am pleasantly surprised not to have sleeves 3 meters long (because I am not tall  I often have to shorten the whole pattern). The neck is a little close to the neck in the future I would dig a little more.
In a word
Pleats, drop in the back, gathered round sleeves: this little top has lots of little details that make all its charm. Moreover cotton remains a very easy material to work with and allows multiple variations. I will make other versions, that's for sure!