Let me introduce you this knotted keyhole top I found on BurdaStyle (collection 02/2014) website. I have never bought complete Burda magazine.  Often much of the patterns is difficult to wear every day or models are too original and I do not see myself wearing this type of clothing .  Whatever I sometimes fall in love for one pattern and in this case I do not hesitate to download the pattern on the online website. This is what happened to me wheb I saw the top attractively named "Knotted Keyhole Top". After I said "it's too cute!", I immediately wondered how the drape was made​​. The answer was given to me while reading the PDF explanations and see, it wouldn't set the world on fire!
Execution of the knotted keyhole top
White cotton Jersey from Tissus du Renard (85 000)
Usual size 36
2/4 (Intermediate)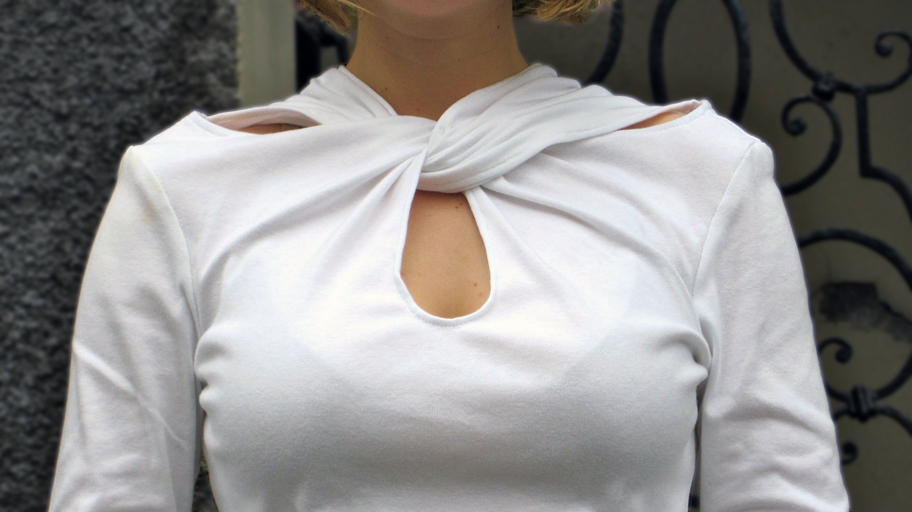 Instructions easy to follow
My first purchase of a print at home PDF on BurdaStyle. I had no trouble with printing, contrary to while I try to print patterns from sewing patterns website. Safety measures of this website let the user experience down. Regarding the explanations given with the print at home PDF, well, they are brief. Moreover there is no sketch to help… So fortunately it was quite easy to sew and I could guess how to make the knot but I have to admit that it took me a little time.This model has 3 parts: front, back and sleeve. Add a strip sewn to the rest  and you get  the knot. This is also the step that made ​​me doubt. Another detail : this top comes in 2 versions … I took time to understand that the only difference between both of them is just that one is made of double thickness while the other is not. I chose the simple version. Regarding sewing jersey, it's still jersey without serger and it is not funny! That said this cotton jersey is somewhat stretchy, cutting and sewing were less hard than my previous sewings with this kind of fabric …
Cost
Considering the print at home PDF price ($5.99) and the fabric's price (which I don't remember exactly, but it was on sale, less than 10 euros per meters), it is a cheap sewing. I would not pay cheaper in a clothe shop.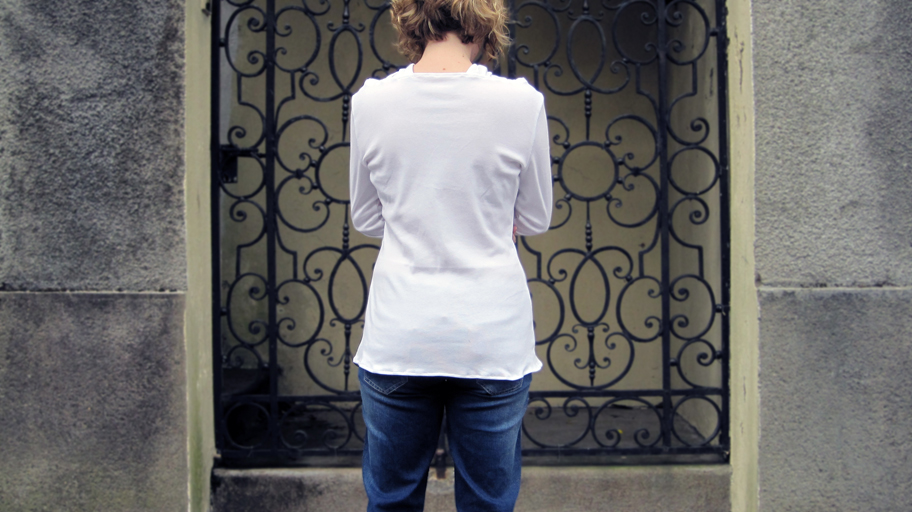 Comfort
This is the good side of jersey tops! Expandable, all movements are allowed! However I do not rate it 5/5 since the passage for my head is quite narrow (my jersey is not expandable in all directions) and the keyhole is generous so well, maybe all movements are not allowed!
Looks like the photo on the pattern envelope
As usual, I think our friends at Burda are one size up. This top is no exception. I shortened the height of the front and back pieces and 10 cm for the sleeves! Despite this, it remains long. If I had to sew it again I think it would reduce the shoulder width for the armholes fall a little. For the rest I'd say it's oK, I'm comfortable. The shape of the top knotted keyhole is original enough that I use plain jersey. Since I do not find interesting patterned jersey (other than peas and traditional stripes) it was convenient.

In a world
I am satisfied with the result. The white color gives a futuristic aspect to this top, I think. The finishes, as with all my clothes made ​​in jersey are a bit simplistic (long live to the pinking scissors and rolled hems). At the moment I doubt there is a second edition of this top, but you never know …