Summer is comming and
Datura
burgeon at high speed on the web! I would not introduce such a famous pattern from Deer and Doe . But then, before you make a compulsive purchase (again) , I watched many versions of this blouse and asked myself  what I really like about the Datura : Mainly the color blocking and the buttonhole on the backside. Once these elements identified, I searched for a pattern to include it among those I already have. I choose the Peter Pan collar version,  which at first sight,  seemed to be easy. While trying to find a pattern, I focused on two points : a model with chest darts and a model that requires non-stretch fabric.  Well the
triangle shirt from Ottobre Design magazine
, which I really appreciate, meets these criteria.
Execution of the Datura likeness blouse
Here are the changes I made with the triangle shirt to get a kind of Datura blouse :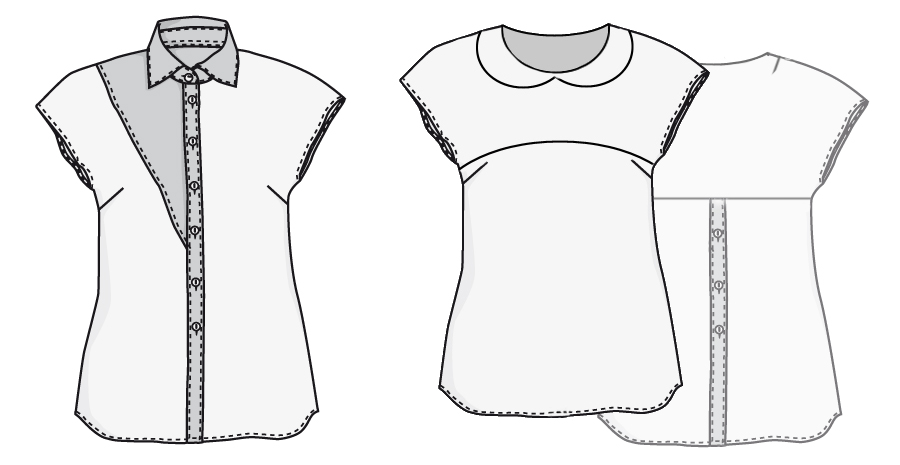 Instructions easy to follow
I have already made this triangle shirt twice before but the alterations I did were not very simple : I removed the tringle shape piece and I enlarged  the collar. I drew an horizontal line on the front which extends to the back to get the 2 colored blocks. Regaring the new collar, I improvised a Peter Pan collar which gave me a hardest time that I thought. Finally I added a buttonhole in the lower back. For the back of the collar , I used  a bias of the same color. Because there were many alterations, I made a draft version of this new triangle shirt. I have no regret because my first attempt had many problems : unclosable buttonhole and the colorblock separation of both front and back didn't match... I didn't waste my time. !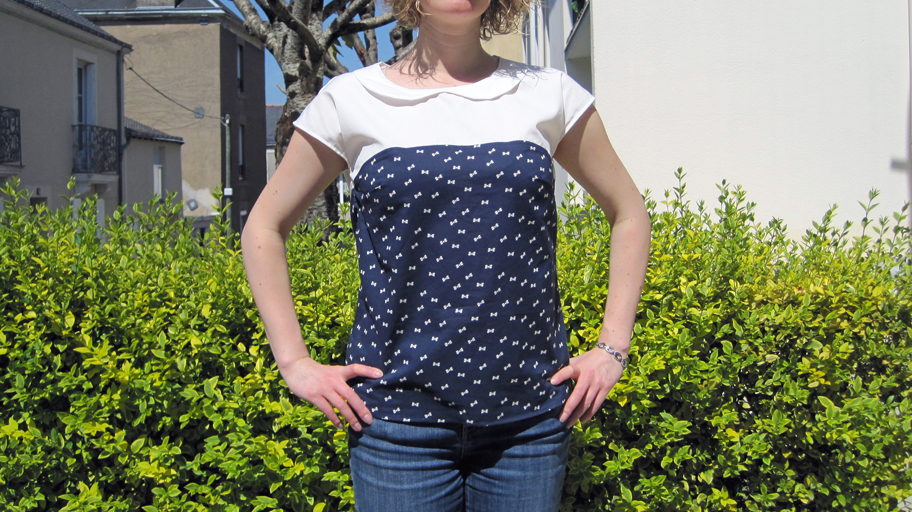 Cost
The cream colored fabric is reasonable (9,90€/m). The fabric from Anna Ka Bazar is more expensive  (15,95€/m) but the quality is very good. I also needed 3 buttons 30 ct euros each. This blouse costs me around 20 euros.
Comfort 
My Datura remains low fitted  despite my adjustments. It is quite comfortable.
Looks like the photo on the pattern envelope
It is hard to say but I really discover my blouse through these pictures (no big mirror at home !). I am pleased with the global aspect even if some defaults remain like this fold on the low back. Regarding the similarity with an original Datura blouse, I think my version pays a tribute to it.