I am currently sewing a new version of this Burda kimono dress and I realized that I didn't introduce the first one I made. Actually it is the first dress I have  sewed. Last  summer I wanted a casual dress for the hot summer days. I found an interesting free pattern dress on Burda fashion website. All you need to do to get the free patterns on this website is to create an account and so I did.
The top part of the dress make its charm. I like this empire waist, the V neckline and the gathered chest . On the other hand, the big sleeves puzzled me, I didn't think it would fit my small height. The fabric I chose was not in the recommended fabric list . Contrary to the model, I made the belt and the collar with a different color to make it stand out.
Execution of the Burda kimono dress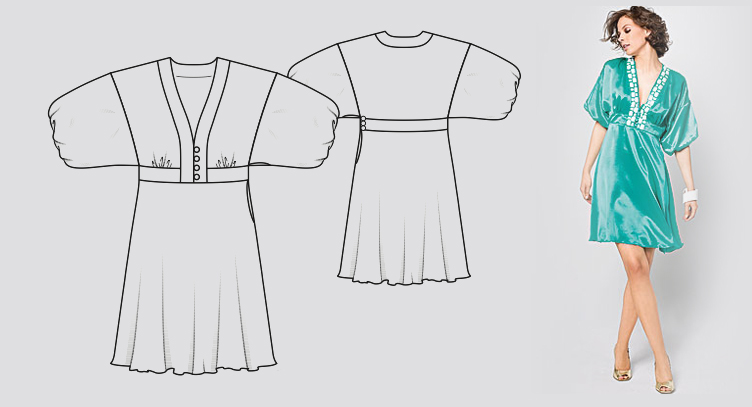 Instructions easy to follow
The execution of this dress is easy but takes time because there are many pieces. Despite of that, I almost understood everything! Each step is very detailed and has a diagram which is very helpful. The tricky part comes when making the bars! So I think next time I will use string instead… As you can see, there are many differences between my version and the original one.
First I didn't make the sleeves : too much puffed out for me ! I gave a lot of thought about the sleeves thing until I finally discover that sewing front and back together already turns into little sleeves  ! So the sleeves problem was solved .
Another alteration I made was about the dress closure. The instructions of the Burda kimono dress suggest to simply leave a slit on a side and close it with three buttons at the belt level… I put a zip in order to avoid a too big opening.
Cost
Because the dress fabric was cheap  (11,9 €/m for the blossom one and 7,70€/m for the white one) and the pattern is free, I can say that it cost me around 15 €, not that much expensive than if I had bought it in a store.
Wearability
This dress is almost the perfect dress to me! I think this shape of dress is flattering and that is why I am currently sewing a new version of this pattern. I also have to admit that the V neckline is just madly deep! The only negative point is the fabric I used. I should have lined the skirt because it is really transparent… I have worn it several time so I didn't waste my time !
In a world
Burda Kimono dress was exactly the dress needed for summer. I recommend this pattern to everyone, even for the beginners : it is free, well explained and the result fits all morphologies.